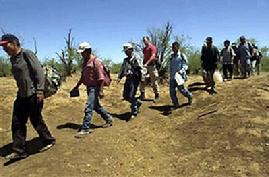 Ask yourself how easy is it to entertain or support anti-illegal immigration views, beliefs or policies.
Supporting the deportation of illegal immigrants, encouraging governmental and civil persecution and harassment, and imprisoning these individuals can easily be understood, rationalized, and accepted if illegal immigrants are seen as a threat to our national security or in terms of fairness or law and order.
What seems somewhat incongruous is that the validity of these views are held by a strong vocal sector of the population—perhaps the majority—that is bent on repressing within our national consciousness that our nation was founded by immigrants who forcefully wrested this land from its first occupants in order to improve the quality of their lives. We joyfully celebrate Thanksgiving Day–one of our most treasured holidays—but at the same time we actively or passively support deportation or imprisonment of people who violated our borders to better their lives and to support their families back home.
We define ourselves as sensitively religious and humanitarian peoples. Our Judeo-Christian tradition, along with other religious faiths and humanitarian values remind us that compassion, love of neighbor, assistance to those in need, generosity, and forgiveness exemplify the types of attitudes and behavior that truly reveal who we are as a nation.
At the same time, we are a society that firmly believes in law and order. We hold that no one should be above the law, much less outsiders.
A conflict of values? No doubt about it.  Is it possible these two views, upholding religious and humanitarian values and the principles of law, order, and fairness are not philosophically and morally compatible? If so, which one should be more highly regarded?
Can we afford to be religious and humanitarian peoples at the expense of sacrificing the sanctity of our laws? Hardly. It is our respect for the legal system that supports our religious and humanitarian way of life. And yet, can we conceive of such a strict law and order society that it may suffocate our religious and humanitarian values; ideals that define who we are as a nation in the eyes of the world?
Such conflicts over our most cherished values are to be expected unless we are prepared to establish the absoluteness of one value over others. Are we all set to decide that law and order should be more highly prized than freedom, the starting point of our nation and its most politically defining value? And how would we rank equality and human dignity, enshrined by our Founding Fathers in the Declaration of Independence as the primary protecting values of our rights?
Setting aside for a moment such stressful thoughts, let us consider the various ways in which we view illegal immigration and how these views account for our attitudes.
The term illegal immigrants, indicating that these individuals broke the law by violating our borders, compel us to consider the issue in terms of law and order. Moreover, if we were to assert that illegal immigrants are responsible for crime and social disturbance or that their presence causes serious cultural and economic disruption, certainly it would be reasonable to arrive at the same conclusion. Further, if we were to view illegal immigrants from within our fear of terrorism, our concern should rightfully escalate and be treated as a threat to our national security.
A Threat to Our National Security
Can anyone fail to notice that the latest anti-illegal immigration rage coincidentally took flight after 9/11?  A widely held view is that those who are likely to conduct terrorist acts against us are foreigners—illegal ones—and there are about twelve million of them within our borders today.
But exacerbated feelings of frustration and impotence in dealing with terrorism at home and abroad, the wars in Iraq and Afghanistan, and the lost lives that have resulted, seem to have contributed to a displacement of our anger towards terrorists to illegal immigrants.
Such displacement of anger has taken place despite that the link between illegal immigrants and terrorism is a myth that can be easily dispelled. Those accused of carrying out or planning terrorist activities within our country are not the same ones who have violated our borders in search of improving their lives.
Those accused of terrorism entered the country by outwitting legal governmental procedures and careless US officials, were American citizens, or were allowed to legally enter the country. Although potential terrorists may have entered the country through our borders, poor border immigrants have not been associated with terrorist activities in the United States. Yet, fear, and perhaps an understandable amount of prejudice, has fueled this negative attitude toward illegal immigrants.
Cultural, Economic and Social Disruption
As to whether illegal, or even legal immigrants may destroy our national identity, there are no serious studies—only hypothetical ones—that might give credence to this view. Having been a nation of immigrants for over two centuries should have banished this anxiety-ridden fear long ago.
What serious studies will uncover instead is the experience that has kept recurring over time: young children of immigrants and second generation immigrants, whether legal or illegal, become Americanized to the extent of forgetting or even not being able to speak their parents' native language fluently while quickly adapting to our so-called American way of life.
The other type of disruption that illegal immigrants are being blamed for is economic in nature. It cannot be denied that needy illegal immigrants receive public assistance through public education, health care and other public services. Also, it is true that these immigrants are willing to perform menial work (that hardly anyone else is willing to do) at lower wages, a situation that leads to job losses and depressing wage rates.
These studies, however, often fail to indicate that illegal immigrants pay sales, excise, and property taxes as well as numerous government charges and fees. Additionally, the point is seldom made that many pay income taxes using false Social Security identifications, thereby contributing to the Social Security and Medicare systems knowing that they can never expect to receive payments in the future.
Far more significant, these studies quite often fail to take into account the extent to which low wages contribute to keeping inflation down and raising the standard of living of millions of citizens through their acquisition of products and services at a lesser cost. In other words, studies emphasizing the low points of illegal immigrants do not fully recognize the positive contributions of these immigrants to the well being of our population, nor do they put a dollar amount to such contributions.
Unfortunately, many of the studies on illegal immigration lack credibility because they have been undertaken or sponsored by groups that directly and indirectly oppose and support illegal immigration. Hence, the question of whether illegal immigrants are more of an economic drain to society than an asset shall remain inconclusive until the Executive and Congress conduct further investigations through respectable entities with no hidden agendas or political ideologies.
Crime and Illegal Immigrants
When it comes to crime and other types of social disturbance, the question of legality seems somewhat less relevant. Criminal behavior, whether by legal or illegal immigrants, accounts for a large share of our predisposition against foreigners.
I must admit that there is some validity to this conception. A single crime committed by an illegal immigrant is one too many. Although illegal immigrants account for less than five percent of all criminal activity in the United States*, had all these individuals been deported on time or had they been prevented from entering the country illegally, such criminal offenses would not have taken place.
But in the end, once the full picture emerges it is likely to cast doubt regarding the social and economic ills attributed to illegal immigrants. They are not prone to terrorism; they tend to assimilate into the American way of life rather quickly; their characterization as an economic drain has not been objectively studied; and the crime rate among them—although unwanted and undesirable—is extremely low.
A Case of Law and Order
We are left with illegal immigration as a law and order issue. Since this is, by far, the most enunciated reason for persecuting illegal immigrants and supporting anti-illegal immigration policies, the least this attitude demands is consistency, evenness, and yes, fairness, too.
We cannot afford to be hypocritical when it comes to law and order. Demanding law and order as a supreme value in our society imposes specific social and governmental expectations on us. To the extent that these expectations are not met prejudice and hypocrisy set in, and as we all know, these are ugly traits that tend to dehumanize us. Also, they run contrary to most religious faiths.
Sometimes, however, what happens is not that we are hypocritical or prejudicial, just somewhat thoughtless. We must remember that hypocrisy and prejudice require full awareness that two equally opposed moral views are sustained at the same time. Thus, only when I claim to be honest and law abiding while I cheat and steal from others do I become hypocritical and prejudicial.
But this is precisely what goes on in our society among millions of our citizens, including, perhaps, many who are against illegal immigrants on law and order grounds.
Take, for example, a powerful indicator of law and order: paying taxes. According to US law, it is a felony to evade taxes. Whether our system of taxation is fair or unfair, there are democratically established procedures to change the laws in our country. Hence, purposefully failing to pay taxes amounts to stealing from the rest since others have to assume the burden of those who cheat.
Since the well being of society in general, including its defense and public services, depend on taxpayers, failure to pay taxes is seen as quite un-American. Tax evaders conspire against the nation and its people. They undermine our society by selfishly sucking from others, like leeches living of the blood of real law abiding citizens.
Among these tax evaders are many who consider themselves law abiding and religious individuals who, nonetheless, support the continued persecution and deportation of people who violated our borders out of sheer necessity—given the hardships they often endure—on grounds of fairness and law and order.
How many are there?
According to the Tax Foundation, there are approximately 15 million households and individuals who file no tax return at all. There are no dollar figures to go along with these numbers, but certainly it has to be far more than the conservative estimates provided by the Internal Revenue Service in its study of the Tax Gap or the difference between what taxpayers should pay and what they actually pay on a timely basis. The IRS indicates that for the Tax Year 2001, this gap amounted to $345 billion.
But, do we hear a chorus of law abiding citizens clamoring for the persecution and prosecution of 15 millions tax evaders? One would think that the government would swiftly deal with such criminal conduct as harshly as we have acted lately toward illegal immigrants.
Not necessarily so.
In 2005, IRS Commissioner Mark W. Everson suggested that we cannot be too aggressive in pursuing tax evaders for it could be seen as, well, un-American. Said Everson, no one should think we can totally eliminate the gap. That would take Draconian measures and make the government too intrusive.
Commissioner Everson's comment might not be entirely off the mark. Would it not be reasonable to assume that US citizens should have more leeway in violating their own laws than those who are regarded as illegal aliens?
What cannot be disregarded is that, in the end, there is a great deal of hypocrisy, prejudice, and/or thoughtlessness in how we view illegal immigrants. In light of the above, how can we claim that persecuting and deporting illegal immigrants on grounds of law and order is morally valid?
Of course, reason and common sense should tell us that even if it were proven that illegal immigrants contribute immensely to the country's economy, its culture, and its social life, violations of our borders cannot continue. Current and past presidents and congresses have been far too lax and irresponsible in this regard.  After all, we cannot afford to not take care of our borders at a time when terrorism is a threat worldwide.
There needs to be a lawful and humane system to deal with illegal immigrants already in our country. There is nothing remotely compassionate about displacing our anger and our prejudice against those whose sin has been to break the law to earn an otherwise honest living while indirectly benefitting us in unrecognizable ways.
Ironically, a conservative Republican George W. Bush attempted to create a coalition among centrist Republicans and Democrats to provide a viable solution to this issue, only to be defeated by largely conservative, family values, law-abiding and religiously-oriented citizens.
Oh, well.
* There were 105,405 noncitizens in state and federal prisons as of 6-30-07. This count includes estimates from 06 figures in Florida, Illinois, and Oregon that did not report their numbers in 07. The total number of both citizens and noncitizens incarcerated in local jails nationwide in 07 was 704,966. Estimating that a 6.6% (percentage of noncitizens imprisoned in state and federal correction institutions) is similar to the number of noncitizens in local jails, adds another 46,527 noncitizens, bringing the estimated total of noncitizens imprisoned nationwide to 151,932, representing 6.6% of the total inmate population in the US of 2.3 million as of 6-30-07. This percentage is considerably reduced today, if we take into account that an unknown number of criminal violations have been committed not by illegal immigrants but by legal residents; and that the nature of crimes by illegal immigrants at the federal level consists mostly of border violations. Thus, setting aside immigration offenses and crime committed by legal residents likely brings the nationwide crime rate by illegal immigrants below 5%.
To contact the author copy and paste my e-mail address and send via your e-mail provider.